OUR PRICING PHILOSOPHY
Our products are priced using a flat monthly subscription pricing model. We never charge a setup fee and there are no card swipe fees either! Try Rewards420™, risk free, for your first two service months. Pricing shown reflects programs on an 3 year subscription term (including the first two risk free non-contract billing cycles)∮.
---
PRICE LOCK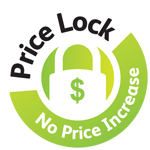 No price increases on your monthly subscription plan... Not Ever!
Your subscription fees will never change for the life of your subscription, even if our advertised pricing increases!
Price protection extends to all future licenses, should you be fortunate enough to open additional stores in the future!
---
DISCLAIMERS:
* Pricing shown is for a 3 year agreement term per store. Add $50/mo per store for month-to-month agreement.
Higher customer limits are only available on Tripping Edition, at a rate of $99/mo per 10,000 members. Tripping edition is required for high transaction accounts.
Custom branded CR-80 Cards, Key-fobs and Combo Cards are recommended for any edition.
Cards, for applicable programs, must be procured through us. Third party cards not supported.
Additional tablets and kiosks may be rented on a pay-per-month payment term basis.

∮ All information shown applies to USA sales only. Alternate fees apply outside USA.

SMS TEXT MARKETING:
(1) Conformance to carrier and regulatory compliance is required.
(2) Message credit purchases are seperate.
(3) As the loyalty program operator, you are responsible to ensure use of the platform is compliant with your local state and federal laws.

BILLING:
(1) Monthly subscription payments are due the first day of each billing cycle, collected via automatic credit card or ACH withdrawal.
(2) Contract terms commence on the third billing cycle, affective for 3 years from that date.
(3) Month-to-month plans (cancel any time) are available at premium rates.